Background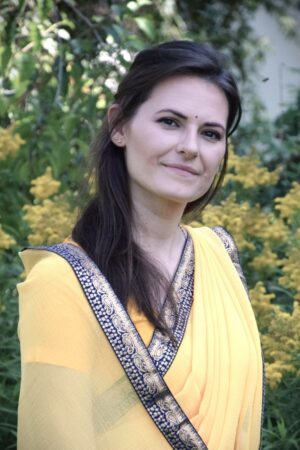 +41764994668  
jyotish.smith@gmail.com
Aleksandra Smith was born in Tashkent, the ancient capital city of Uzbekistan and one of the largest cities in central Asia. It was here that she spent her childhood, amidst an oasis adjacent to the Chirchik River, in a flourishing region renowned for its bountiful cotton and fruit cultivation.
She was raised by her mother in a religious family. Her great-grandfather was the senior presbyter of a Christian Tashkent Church, responsible for churches and parishioners in the Uzbek and Tajik Republics. Thus, being his great-granddaughter, the quest for spiritual fulfillment has always been a central part of Aleksandra's life. Her mother's own spiritual journey into Hinduism further served to guide Aleksandra, leading to her becoming a devotee of Śri Kṛṣṇa herself at the age of three.
Aleksandra always had a keen interest in art in its various forms. So when her family relocated to Poland, she pursued her education in the performing arts, painting, and drawing; culminating in her obtaining her master's degree in Architecture and Urban Planning from Wroclaw Technical University.
After her studies, Aleksandra moved to Switzerland where she now resides with her husband. Through living in these and other countries, she has experienced a mixture of cultures, religions, and mentalities, and has learned to speak Russian, Polish, English, and German.
During her teenage years, it was her mother who first encouraged her to start learning Jyotiṣa, and she began volunteering as a translator for Jyotiṣa readings. Aleksandra's interest in Jyotiṣa grew, which led her to the great lineage of Śri Achyutananda, and she began her formal studies with the Bṛhat Parāśara Horā Śāstra course under her Jyotiṣa Gurus pt. Sanjay Rath and Sarbani Rath. Vedic astrology is now Aleksandra's true passion, and she continues her studies by participating in the Jaimini Scholar Program as well as the Mantra Śāstra and Śiva Māhapurāṇa courses.