Background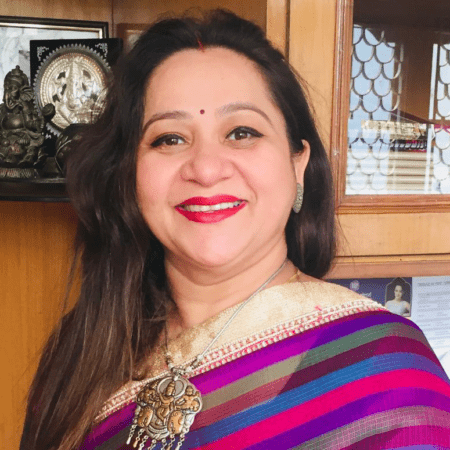 15B Gangaram Hospital Road, New Delhi, India 110060
 +91 98111-28431  
ritukhurana211@gmail.com
FB Ritu Khurana
Indraprastha is mentioned in ancient Indian literature as a city of the Kuru kingdom. It was the capital of the kingdom led by the Pandavas. Modern historical research pins its location in the region of present-day New Delhi, particularly the Old Fort known as Puran Qila. The city was known as Khandavprastha, a forest region on the banks of river Yamuna, river which had been cleared by Lord Krishna and Arjuna to build the city.
Ritu Khurana hails from this city. Her ancestors migrated and settled in this city from Sialkot, Punjab (present day in Pakistan) during partition 1947. She grew up in a joint family enjoying various diversities of religions. Her paternal family were followers of Siddha Gouraknath Pant Sampradaya, whereas her maternal family were followers of Sikhism.  They daily participated in the duties of a gurudwara in their community. Ritu understood Christianity as did her schooling at a prestigious catholic school in the city. Punjabi, English and Hindi were languages used in her family in their day to day conversation. Her childhood was nurtured with stories of Guru Nanak, Kabir and the journey of her grandparents from Sialkota to New Delhi during partition. She learned from her Grandfather the core philosophy of life, "You can lose everything but nobody can steal your education."
Ritu was a very active child. She loved to dance, act and do creative craft work.
The Jyotisha Journey She is the first generation in the study of occult sciences, who aspired to learn Jyotish –vāstu. Ritu had a keen interest in learning the Vedic subjects from childhood. Studying the Palm in her teens was her first step in this journey. She studied Palmistry from Cheiro and Linda Goodman's Sun signs, but she did not take any formal training therein. She had always been very intuitive.
Since she had been creative right from the childhood, it's her creativity and varied interests that has shaped her life and learning. Her journey as a seeker of Vedic knowledge started in 2008 when she learned Relki and had joined the Indian Council of Astrology Services. Since then, she has had the opportunity of learning the various aspects in the discipline of Vāstu and Jyotish.
Before stepping into the Vedic subjects, she was a qualified teacher and holds a postgraduate degree from Delhi University and Bachelor's in Education from Annamalai University. She had a teaching career spanning more than two decades, and successfully enjoyed Training (ELT) skills with Indian and foreign students. Later she has acted as a resource person for different Publishing House like Oxford and VIVA.
Ritu became a part of the parampara in 2015 and completed her Parasara Jyotish Course (PJC) from Devaguru Brhaspati Center by Guru Pt. Sanjay Rath and Smt. Sarbani Rath. It was the blessing of her guru and guidance of Smt. Sarbani Rath that she wrote several articles for the astrological magazine 'The Jyotish Digest' and participated as a speaker and organizer in SJC Conference 2021 and 2022. She has continued her studies with these following courses- Jaimini Scholar Program, the Mantra Śāstra and Śiva Māhapurāṇa by Pt.Sanjay Rath .
This was not possible without the support of her family. She always tried to impart the knowledge, values and virtues to her kids. She is blessed with a daughter and a son. 
Her vision is to encourage and promote astrology and vāstu by introducing it to the world around as a powerful Vedic tool given by Rsi and not a myth as portrayed in today's world